The Crisis in the Telecommunications Sector Is Over
Dunajská Streda, 1 March 2016
The profits of NEVITEL, a.s. soared in 2015 compared to 2014. The goal of company management is to become the leading supplier of telecommunications infrastructure in Slovakia.
Basic performance indicators: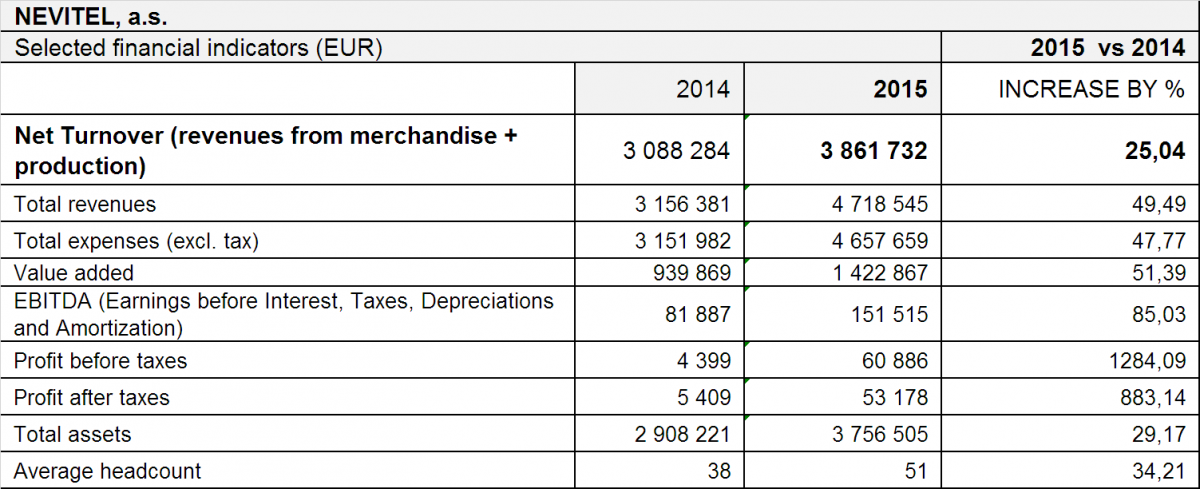 Given projections based on the above-stated company results stated and plans for 2016, all preconditions have been met for a further increase of the turnover of NEVITEL, a.s. this year.
"The crisis in the telecommunications market is over, and the operators' appetite for investments has returned to its pre-crisis level," said Ing. Alexander Néveri, company owner. "FTTX investment projects, especially in fixed networks, are getting under way on a large scale and the construction of mobile networks is continuing. Technologies for fast LTE Internet are being installed, and technologies are also being replaced to make sure previous generation networks, 2G and 3G, work properly. To cope with the rapid increase in the volume of transferred data and increased smart phone use, base stations are being connected to the fibre network, which has replaced the previous microwave radio relay system," added Ing. Néveri.
NEVITEL, a.s. has again signed framework contracts with the most significant players in the telecommunications industry. Cooperation in design, engineering and implementation of the fibre networks has been agreed with Slovak Telekom. Turnkey base stations will be constructed for the SWAN company, including design and preparatory legal work. The company continues to cooperate with O2 and Slovak Telekom to replace LTE technologies and build new base stations for mobile networks. NEVITEL, a.s. undertakes these activities as turnkey projects. Negotiations have been opened with the Orange Slovensko on a framework contract for the construction of a mobile network. Cooperation will begin as soon as the contract is signed.
NEVITEL, a.s. operates across the Slovak Republic and plans to return to foreign markets, primarily Hungary and the Czech Republic.